Platform 22
exhibition
•
26 Jan 2023 – 26 Feb 2023
Platform 22 features the work of five Sheffield based artists: Adebola Oyekanmi, Kedisha Coakley, Rian Treanor, Theresa Bruno, Tyler Mellins.
Exhibited across three venues, Platform 22 presents a fascinating insight into five artists' work developed during the first year of their two-year residency with Sheffield's visual arts organisations.
Site Gallery, Platform 22: Dark Echoes
Adebola Oyekanmi, Kedisha Coakley and Tyler Mellins present Dark Echoes, a group exhibition tracing echoes of the past and future through the legacies of empire, outer space and the paranormal. 
Remnants of pith and peel are captured, preserved and displayed, while ghosts in the machine reach out to us through an improvised obelisk. A journey towards the edge of space unfolds before us, exploring a Black consciousness rooted in past, present and future. The debris of deep time hovers in the air.
Explicit and racialised language is displayed and spoken within a work in this exhibition.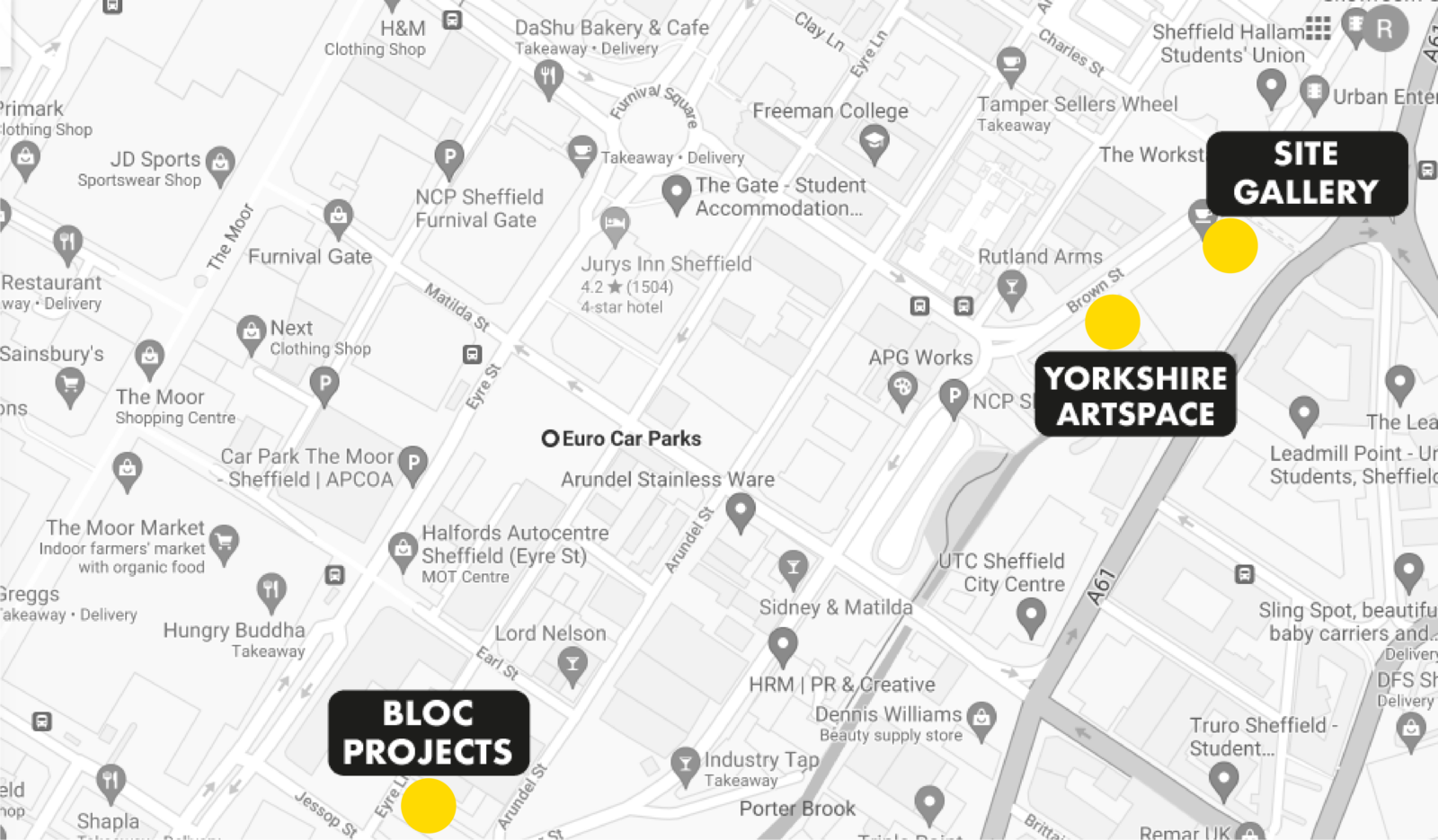 About Platform
Platform is an established artistic development programme at Site Gallery which allows artists to explore new ideas in a public space, testing new thinking and research with engaged audiences. The artists began their residencies in January 2022 and are five of twenty from the Sheffield City Region, taking part in the Freelands Artist Programme.
The Freelands Artist Programme supports emerging artists across the UK in partnership with g39, Cardiff, PS2, Belfast and Talbot Rice Gallery, Edinburgh. Each artist receives a two-year paid residency which includes investment in professional development, production as well as opportunities to exhibit.
Site's programme partners: Bloc Projects, Museums Sheffield, S1 Artspace, and Yorkshire Artspace.
Lead image: Extract from Seance Sketch 1 (Can you hear me?). Tyler Mellins, 2022. Still from digital video, featuring images taken from: Arrested Development (S01E01 'Pilot'). Mitchell Hurwitz, 2003.Bill & Ted's Bogus Journey. Pete Hewitt, 1991.