On 2 July 2022, multiform artist Sonia Boué exhibited The Artist is Not Present through an Instagram livestream at Site Gallery, part of national event We Are Invisible We Are Visible (WAIWAV).
WAIWAV marked the 102nd anniversary of the 1st Dada International Exhibition in Berlin, and Site joined 29 other museums and galleries across the UK in hosting Dada inspired interventions from 31 d/Deaf, Disabled and Neurodivergent artists.
The Artist is Not Present, explores conditional visibility and invisible disability. Objects of autobiographical significance including a suitcase from Sonia Boué's family archive and a childhood toy present an intimate stage set. Joke noses and party moustaches form part of a studio ritual of performative collage making. In this work Sonia seeks to critique the Neurotypical gaze and assert performance as a radical act of Neurodivergent healing and transformation.
Sonia's live Instagram performances have been archived and the primary focus for the piece reflects a concern with the documentation of performance traces, using the multiple lenses employed during its enactment. A short film provides viewers with a 'floorscape' through which the artist deflects the viewers gaze.
Trapped in a hall of mirrors of my own making and pinned to Instagram like a butterfly, my WAIWAV intervention became a ritual of healing and transformation with more layers than a vanilla slice. Somehow, by the end of the day I created a shrine; and as absence and dislocation run through my veins the impression on others is unimaginable.
Instagram Lives feel like jumping off a cliff. In the space of a second you can be visible to anyone anywhere. I rotated my screen so that viewers experienced a mirror version of my intervention. So far so Dada. Instagram Lives combine extremely accessible technology with extremely limited options. I had committed to the portrait format when so much of the action spilled out across the landscape of my studio. This meant that there were corners to hide in. On the day, I put on my headphones and performed like no-one was watching. My performances are a form of live assemblage; the point is to mediate human connection through the object. I seek to disrupt a neuro-normative insistence on eye contact.
My hourly performances were streamed both at Site Gallery in Sheffield and anywhere in the world on a smartphone. The performance artist and filmmaker Naomi Morris, was with me in the studio. Naomi was my creative collaborator and co-conspirator, filming the action in glorious landscape format.
– Artist Sonia Boué.
Find out more here.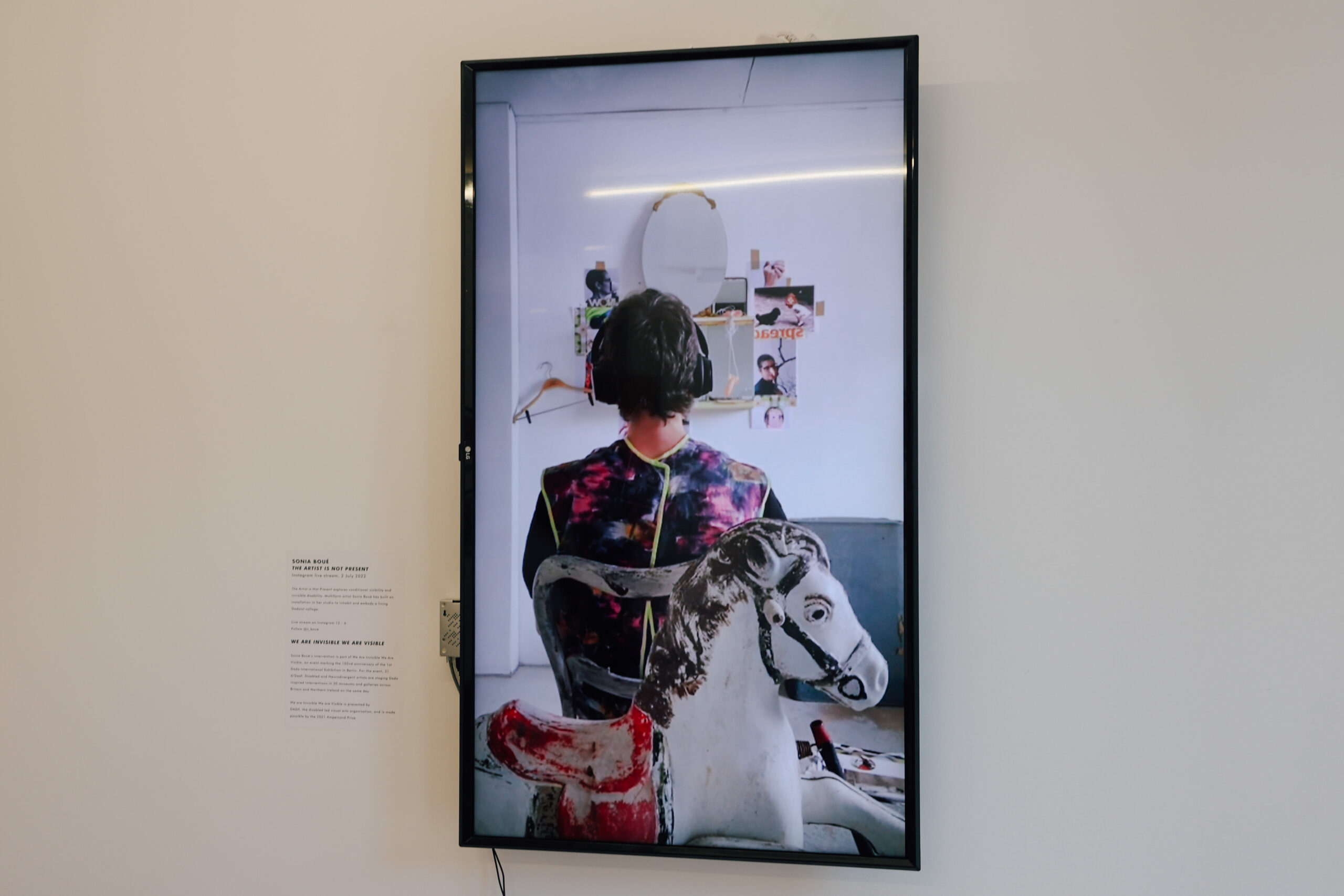 Featured video and image credit: The Artist is Not Present, Sonia Boué, 2022.
Above photo credit: Joe Horner, 2022.
We are Invisible We are Visible was presented by DASH, the disabled led visual arts organisation, and was made possible by the 2021 Ampersand Prize. DASH Arts are currently recording all of the images and feedback from the artists and galleries, and a film to capture the project is also underway at 104films.com​​​​​​​. The film will be screened at Site Gallery – more details coming soon.