Rewriting The Future: Sophia Al Maria, Sonya Dyer, Ursula Mayer, Victoria Sin
exhibition
•
27 Sep 2019 – 02 Feb 2020
Feminist artists and writers have long been presenting new angles on gender, power, ecology and community and this exhibition explores some of those narratives.
Preview: Thursday 26 September, 6– 8pm. With music from GRL. 
Sophia Al Maria, Sonya Dyer, Ursula Mayer, Victoria Sin
Rewriting The Future is both a warning and a vision of hope. In an age where wealth controls our systems of power – and the world is ruled by patriarchal societies and systems – feminist perspectives can offer new angles on gender, power, ecology and community.
Speculative and science fiction are spaces where potential futures are explored, questioned and proposed. As with many disciplines, they are also spaces where creative, talented female, trans, non-binary and intersectional queer perspectives have been overlooked. Mainstream science fiction has long-perpetuated and replicated unequal structures of power, projecting them into a depressingly-similar future.
The four artists in the exhibition envisage new possibilities, extrapolating from our current, tumultuous condition. The visceral, luscious near-future speculations of Ursula Mayer's large-scale film installation ATOM SPIRIT create a place where race, gender, postcolonialism and technology intersect. Victoria Sin's And at the pinnacle the foot of a mountain, imagines a world that is non human-centric – one in which humans are merely vessels to enable reproduction, subsumed by giant orchids and locked into a cycle of parasitic behaviour.
Sophia Al Maria's iridescent, hyper-colour moving image work The Magical State explores the extraction of fossil fuels from the desecrated land as a kind of ritualistic, violent exorcism imposed on the abject 'female' body. Sonya Dyer's Hailing Frequencies Open reimagines the history and potentiality of Space travel, creating a world where an aptly-named vessel carries the descendants of the first human materials sent into Space towards the Andromeda Galaxy.
The exhibition will be accompanied by a digital publication compiling new speculative fiction writing from some brilliant feminist minds. Curated by Angelica Sule. 
With support from the Elephant Trust.
Image: ATOM SPIRIT 2017, Ursula Mayer. Three channel video, 16 mm on HD 20 min. Courtesy the artist.
Press Release: Rewriting The Future
Ursula Mayer, ATOM SPIRIT, 2017
Three channel video, 16mm on HD, 17 min. Courtesy the artist and LUX, London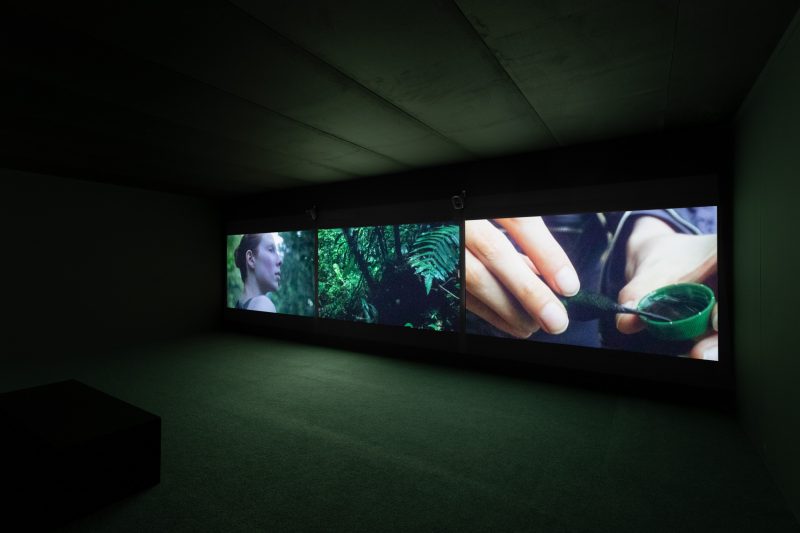 The film ATOM SPIRIT is a speculative narrative set in a near future of increasing biomedical innovation. The film, set in and made with the LGBTQIA+ community in Trinidad and Tobago, follows the work of a group of evolutionary geneticists studying and collecting DNA from all forms of life in order to create a cryogenically frozen Ark. The video presents a cyborgian future of techno-science in which the residual resonances of extinct civilisations is still felt. Through blending science and mythology ATOM SPIRIT ruminates upon the effects of computational and biological technologies on future iterations of humanity and the environment.
The work explores the politicised ecologies of our times, in order to excavate the possibilities and perils regarding our shared techno-natural future. The immersive space, combined with the film's speculative narrative, emphasises the necessity of radically reforming our relationships with the environment, non-human entities and each other. The film asserts a politics that both takes apart patriarchal taxonomies and builds up queer ecologies in their stead.
Ursula Mayer works across film, sculpture, photography and installation to create "kaleidoscopic" spaces where references intersect and boundaries dissolve. Her films fuse formal experimentation with myth, biopolitics and the semiotics of cinema to visualise and ruminate upon future, post-human ontology. 
This film is dedicated to a member of the cast Keon Patterson aka Sasha Fierce who was killed in a homophobic hate crime (after the film shoot) in Trinidad and Tobago.
Sonya Dyer, Hailing Frequencies Open, 2019, Installation. 
With support from the Elephant Trust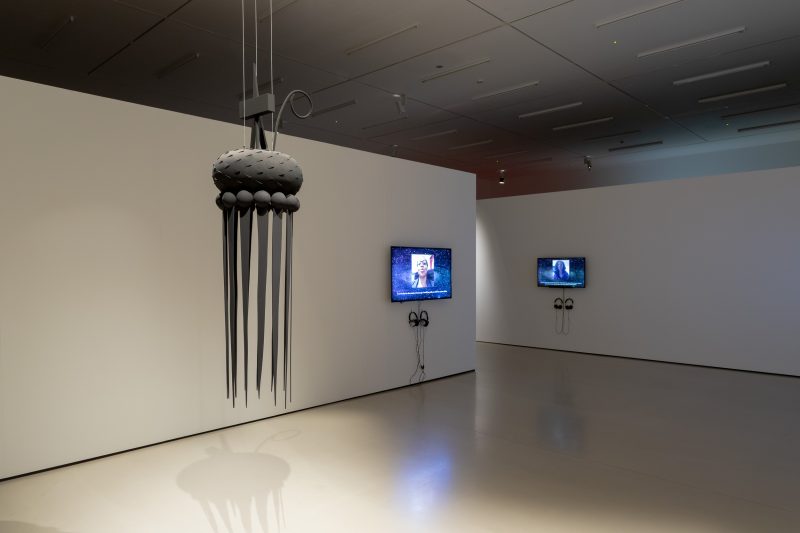 Hailing Frequencies Open intersects actor Nichelle Nicols' pioneering astronaut recruitment activism work, the dubious genesis of HeLa cells and the Greek myth of Andromeda – combining social justice with speculation, fantasy with the political.
In the 1970s, Nicols developed a pioneering astronaut recruitment programme, enabling the first American woman and the first Black man to visit Space. HeLa cells – taken from the body of a young African American woman, Henrietta Lacks – are 'immortal' and can reproduce under practically any circumstances. These cells were the first human materials sent into Space, by the Soviets in 1960.
Hailing Frequencies Open builds a world wherein the cells are still in Space, travelling towards the Andromeda Galaxy on the Anarcha II space vessel. The vessel's name monumentalises the memory of an enslaved women experimented on by the scientist regarded as the father of modern gynaecology. Alice Coltrane's composition, Andromeda's Suffering, adds a poignant layer of multigenerational connection, recalling the Greek myth about the Aethiopian princess.
Videos featuring prominent Black women scientists accompany the vessel. The journey to Andromeda becomes a metaphor for the reclamation of the neglected stories of Black women of mythology and of the future.
Sonya Dyer's work explores how the future is constructed within the popular imagination. Dyer is particularly interested in reimagining Black women's subjectivities within speculative futures.
Victoria Sin, And at the pinnacle, the foot of a mountain, 2019
Audio installation, 23 min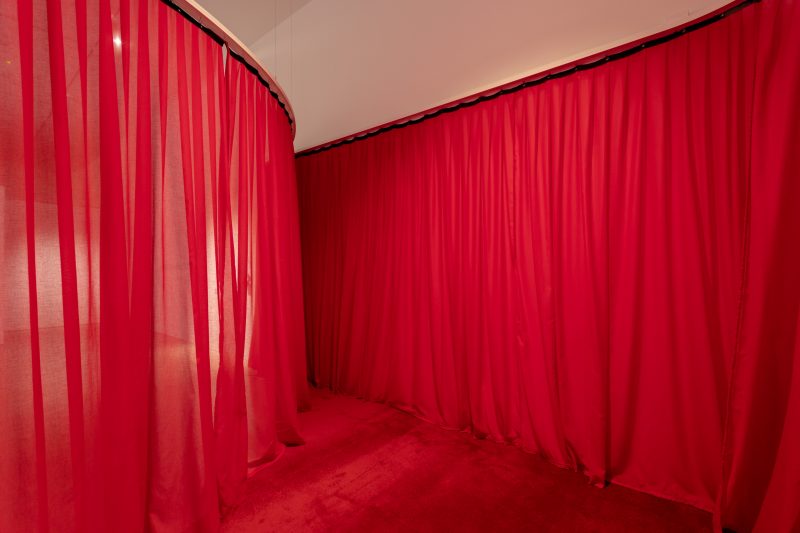 "100 million years ago the first flowers appeared among giant trees and ferns. Orchids were among the first flowers. The first jewels of colour in a world of green, in a time before animals."
You wake up in a strange but familiar rich botanical world. In this reality, the real protagonist is the context uncovered over brief episodic flashes, scientific interludes, dream sequences and poetic interstices, which follow our search for a unifying meaning. Fantastical flora seduce and prey as parasitic and symbiotic relationships play out at microscopic and monumental scales textured with digital and organic soundscapes. Time passes but chronology is uncertain – you have been here before.
Victoria Sin is an artist using speculative fiction within performance, moving image, writing and print to interrupt normative processes of desire, identification and objectification. This includes: Drag as a practice of purposeful embodiment questioning the reification and ascription of ideal images within technologies of representation and systems of looking; Science fiction as a practice of rewriting patriarchal and colonial narratives naturalised by scientific and historical discourses on states of sexed, gendered and raced bodies; Storytelling as a collective practice of centering marginalised experience, creating a multiplicity of social contexts to be immersed in and strive towards.
Drawing from close personal encounters of looking and wanting, their work presents heavily constructed fantasy narratives on the often unsettling experience of the physical within the social body.
Sophia Al Maria, The Magical State, 2017
Single channel video, 6 min 14 sec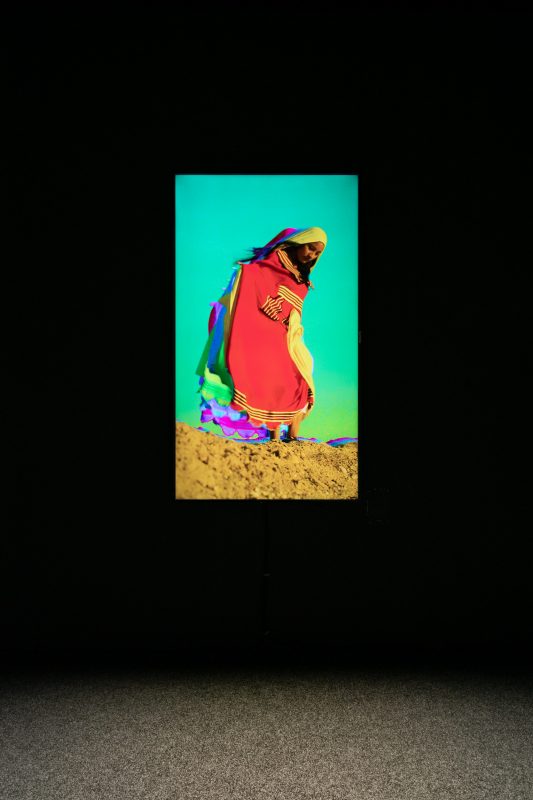 Shot in La Guajira peninsula in Colombia, the location of one of the world's largest open-pit coal mines, Sophia Al Maria addresses the issue of fossil fuel extraction. A young woman from the Wayuu tribe indigenous to the area is interrogated by an unseen Spanish-speaking man. She becomes possessed by the angry spirit of a 40 million year old oil demon awakened by mining. She speaks in the Wayuunaiki language, terrifying the man and the viewer. Half demon, half heroine, the young woman in The Magical State is both the substance and the outcome of the mining, but also a strong feminist metaphor for every woman, every being, that is oppressed, suffocating within the bounds of a forced condition and its violence eventually discharging her panic against anyone who crosses her path.
Sophia Al Maria is an artist, writer and filmmaker. For the past few years, she has been carrying out research around the concept of Gulf Futurism. Her primary interests are around the isolation of individuals via technology and reactionary Islam, the corrosive elements of consumerism and industry, and the erasure of history and the blinding approach of a future no one is ready for. She explores these ideas with certain guidebooks and ideas including, but not limited to, Zizek's The Desert of the Unreal, As-Sufi's Islamic Book of the Dead, as well as imagery from Islamic eschatology, post humanism and the global mythos of science fiction.
Work commissioned by curator Nadja Argyropoulou for Polyeco Contemporary Art Initiative (PCAI), Greece.
Artists
Sophia Al Maria 
Sonya Dyer
Ursula Mayer
Victoria Sin