Platform 20
exhibition
•
27 Jul 2021 – 22 Aug 2021
Platform 20 features the work of five Sheffield based artists: James Clarkson, Maud Haya-Baviera, Victoria Lucas, Conor Rogers and Joanna Whittle. The multi-venue exhibition at Site Gallery, Yorkshire Artspace and Bloc Projects presents a fascinating insight into the artists' work developed during their two-year residency with Sheffield's visual arts organisations.
Entry is free, but you must book a timed ticket before visiting.
Platform 20: Manor Boy (Yorkshire Artspace)
Manor Boy is a solo exhibition by Conor Rogers inspired by his childhood on the Manor Estate in Sheffield. Through painting, spoken word poetry, sound installation and sculpture, Rogers engages with and interrogates the demonisation of the estate and its residents in both local imagination and
national press.
You can listen to Roger's spoken word below.
Platform 20: Heavy Water (Site Gallery)
Heavy Water is a homecoming – a collective return from relative isolation to the land. The group exhibition explores humanity, transience and the lure of the natural world; from rituals of mourning to the secrets of matriarchal moss colonies and the historic migration of humans across lands in the
search of peace, of freedom.
Presenting work in progress developed during their time on the Freelands Artists' Programme, Maud Haya-Baviera, Victoria Lucas and Joanna Whittle's interdisciplinary exhibition weaves historical narratives with fiction and mysticism.
Victoria Lucas Artwork Edition is currently available to purchase from our friends at Threshold. You can also purchase Joanna Whittle's Limited Edition enamel pin badge from the gallery shop.
Platform 20: K-House (Bloc Projects)
K-House, a solo exhibition by James Clarkson, will explore the architecture of the office space as the physical interface between our work, selves and these complex chains of information. The work will manifest itself as a series of desktop, wall-mounted and floor-based sculptures, turning the gallery at the Bloc Projects into an abstracted office environment.
For further information, please see our press release.
---
Platform is an established artistic development programme at Site Gallery which allows artists to explore new ideas in a public space, testing new thinking and research with engaged audiences.The multi-site exhibition will be presented in three iterations at Site Gallery, Yorkshire Artspace and Bloc Projects.
These artists began their residencies in 2019 and are five of twenty from the Sheffield City Region, taking part in a rolling five-year initiative funded through the Freelands Artists Programme. Each artist receives a two-year paid residency which includes investment in professional development, production as well as opportunities to exhibit.
Platform is funded by The Freelands Foundation through the The Freelands Artists Programme. The Freelands Foundation was created to support artists and cultural institutions, to broaden audiences for the visual arts; and to enable all young people to engage actively with the creation and enjoyment of art.
Programme partners: Site Gallery, Bloc Projects, Museums Sheffield, S1 Artspace, and Yorkshire Artspace.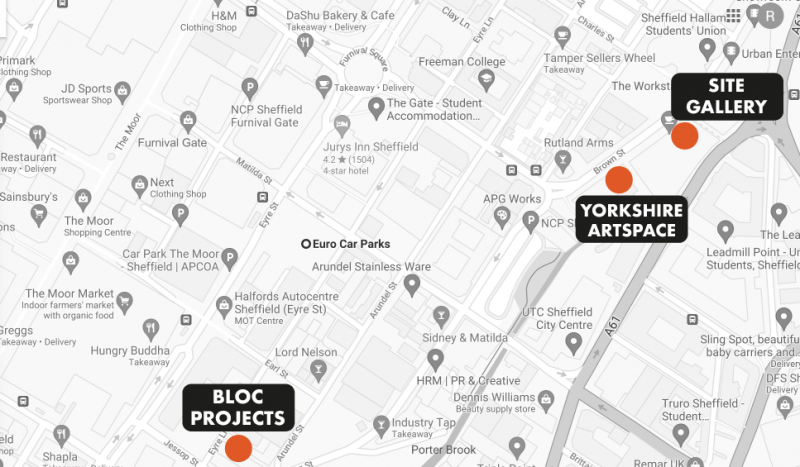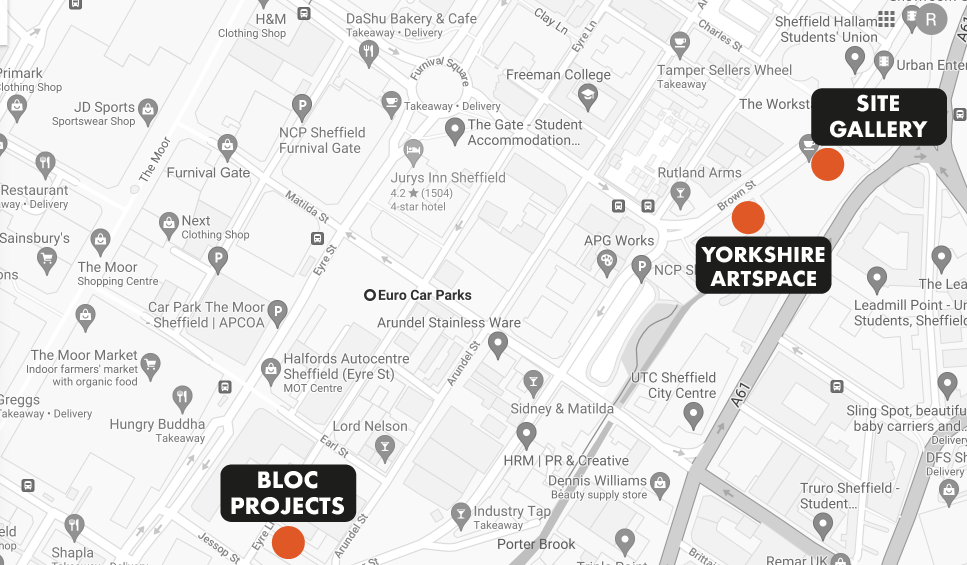 ---
Exhibition Opening Times
Site Gallery:
Monday           Closed
Tuesday           Closed
Wednesday     12pm–6pm
Thursday         12pm–6pm
Friday              12pm–6pm
Saturday          12pm–6pm
Sunday            12pm–4pm
Yorkshire Artspace:
Monday           Closed
Tuesday           Closed
Wednesday     12pm–5:45pm
Thursday         12pm–5:45pm
Friday              12pm–5:45pm
Saturday          12pm–5:45pm
Sunday            Closed
Bloc Projects:
Monday           Closed
Tuesday           Closed
Wednesday     12pm–6pm
Thursday         12pm–6pm
Friday              12pm–6pm
Saturday          12pm–6pm
Sunday            Closed
Lead Image: Victoria Lucas, Entanglement (2021), Video Still